Life-Saving Hacks that Every Girl with Frizzy Hair Should Follow
Don't we all hate those mornings when we wake up all fresh until we look into the mirror only to find our hair wrapped in frizz and knots? Frizzy hair is a common problem faced by a lot of people due to humid weather and often gets out of control. The untamed hair is the biggest villain in every girl's life and no matter what you do, they don't settle down. We go out of our way to fix our unruly hair only to end up with grease that weighs down instead of looking fuller and bouncy. We all have been there in the situation when right before stepping out, we stood helpless in front of the mirror with our frizzy tresses. 
Dear ladies, we know that battling frizzy hair can be tiresome; hence that's why this blog brings to you the simplest hair care tips to fight rough and frizzy hair. Check out the main reasons behind frizzy hair and easy tips that will transform the knots and flyways with smoothness and nourishment. 
click here – Comparison of the Best Ways to Consume Weed
What Causes Frizzy Hair?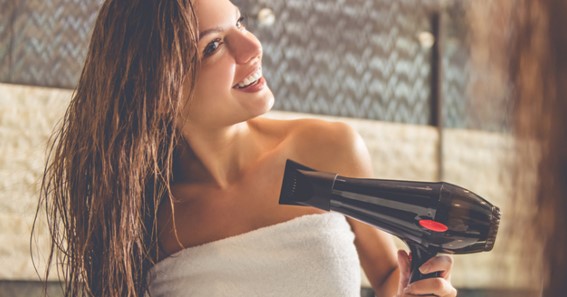 Before we move to the ways that fix the frizziness in the hair, let's find out what makes our hair appear frizzy and the underlying consequences behind it. 
If you are habitual of taking a hot shower to feel relaxed after a tiring day, maybe it's time you should stop doing it. Hair cuticles being exposed to hot water multiplies the frizziness and end up making the hair tips rough because they strip off the natural oil of the mane that keeps the strands soft. 

Styling our hair with different 

hair styling tools for women 

makes our hair look hi-sheen and fancy but in a long time they end up making the strands brittle and rough.

Showing up to work with freshly washed hair regularly is indeed tempting but in reality, the harsh chemicals leave the soft hair looking dry, dull and frizzy. 

Another main reason behind hair turning frizzy is the habit of wrapping hair in a thick towel can draw moisture out of the strands making them hard and frizzy. 
Ways to Tame Rough and Frizzy Hair
Get your Hair Trimmed Regularly
Trimming the hair at fixed intervals fixes the frizzy hair by removing the appearance of broken hair that does not look good. A good haircut is a key to healthy and good-looking hair. It does not only keep the problem of split ends at bay but also avoids unnecessary hair breakage and gives your hair an instant boost of thickness and volume. 
click here – ​​4 Tips to Stay Fit and Healthy While on Summer Break
Switch to Shampoo and Conditioners Exclusively for Frizzy Hair
While adapting to the methods to control the frizzy hair, watch out for which shampoo and conditioner you are using. Despite following the right hair care routine, if you still find yourself miserable with frizzy mane then you need to befriend a hydrating shampoo and conditioner with nourishing formula. Shampoo with hydrating features does its job to settle the flyways and turning the hair fluffy and smooth without weighing them down. 
Use Leave-in Conditioners 
Next time someone denies using a leave-in conditioner, send them the link to this article! As a girl who keeps fighting with her frizzy hair, having leave-in conditioner in her personal care kit is such a blessing. The prime reason behind having frizzy hair is lack of moisture and applying leave-in conditioner works to add shine, moisture and bounce to the dull hair. For the best results, always use the product in towel-dried hair after following 3 step process of hair wash. Refrain from applying the product to the scalp as it can weigh down the hair and make it look greasy. Detangle the hair knots using a wide teeth comb and then apply the conditioner through the hair. Leave it for some time and then style it accordingly. 
Use Hair Serum before Using Styling Appliances 
Heat Styling Tools such as Hair Straightening Machines and curling irons help us through achieving desired hairstyles. However, using these tools at high temperature causes ultimate roughness and makes the hair look frizzy. Hence before using any styling appliance, apply hair serum on the root tips to control frizz and protect hair from excessive damage. Moreover using hair serum also adds shine and a better finish to the styled hair. 
With the kind of lifestyle we have chosen for us, our hair is often exposed to damage and frizz. But if you follow these basic tips consistently, you can always fix them and curb the dullness without seeking professional treatment.